Wer WebDeploy auf einem Server Betriebssystem nutzt, der geht im Standardfall über den Port 8172. Aber wofür ist der Port eigentlich da und wie kann ich den ändern?
Hinweis: Für die WebDeploy Installieren empfehle ich diesen und diesen Blogpost.
Port 8172 = IIS Management Service Default Port
Der Port 8172 ist der Standard-Port des IIS Management Services, welchen es auch nur für Server Betriebssysteme gibt (also keine Sorge wenn ihr ihn im IIS unter Windows 7/8 nicht findet).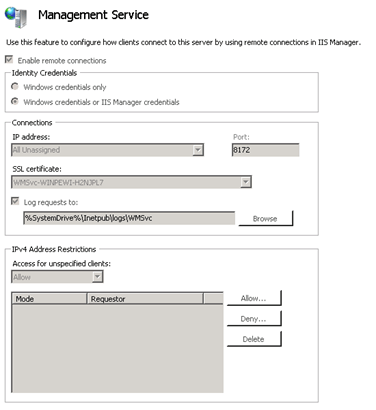 Über die GUI (und sicher auch über die Powershell) kann man diese Einstellungen ändern wenn der Dienst gerade nicht läuft.
Das war es eigentlich schon.
Hintergrund-Info: WebDeploy & Web Management Service Handler
Weiter oben habe ich schon geschrieben das der Web Management Service nur auf Server Betriebssystemen zum Einsatz kommt – wie funktioniert dann aber WebDeploy auf meinem lokalen IIS?
Auf dem Blog von Richard Szalay habe ich eine tolle Zusammenfassung über WebDeploys "Deployment Modelle" gefunden:
Web Management Service (WMSvc) handler
This is the preferred method for IIS 7+ / Windows Server 2008+ and supports non-administrator deployments. It piggybacks on the WMSvc (ie. remote IIS management) by registering a custom handler (http://server:8172/msdeploy.axd). Making use of WMSvc also means that this method is not available to Windows client versions (including 7 and 8), as WMSvc is not available on those platforms. At the command line, this method is specified on the dest provider as ",computerName=http://server:8172/msdeploy.axd?site=iis-site-name"

Web Deploy Agent Service
This is the only choice for IIS6 / Server 2003, is not installed by default, and requires the deployment user to be an administrator. At the comment line, this method is specified as ",computerName=server"
"On Demand" Agent Service (temp agent)
This choice installs the agent service temporarily for a single deployment. Useful when you have administrator credentials but aren't able to remotely install the handler or agent service. At the command line, this method is specified as",computerName=server,tempAgent=true"
</ol></ol>

WebDeploy auf dem Server selbst funktioniert immer im Zusammenspiel mit dem Web Management Service – ändert man den Port des WMSvc Handlers, ändert man den Port für WebDeploy.

Hintergrund-Info: Wo werden diese Einstellungen eigentlich gespeichert?

Ein paar dieser Settings (wie z.B. den Port) habe ich in der Registry wiedergefunden:

Computer\HKEY_LOCAL_MACHINE\SOFTWARE\Microsoft\WebManagement\Server

Andere Settings stehen in der administration.config (unter C:\Windows\System32\inetsrv\config)

TL;DR:

Auf einem Server im IIS Manager auf Management Service gehen und da den Port ändern. WebDeploy nutzt den Management Service für das Deployment – wobei der Management Service auch zur "Remote-Verwaltung" dient.