Auch wenn die Build-Konferenz noch am laufen ist, gab es bereits eine Vielzahl von Neuerungen im Bereich der Webentwicklung auf dem Microsoft Stack zu sehen – hier mal ein paar Anlaufstellen die in Kürze die Neuerungen zu den oberen Themen gut zusammenfassen.
Windows 8.1: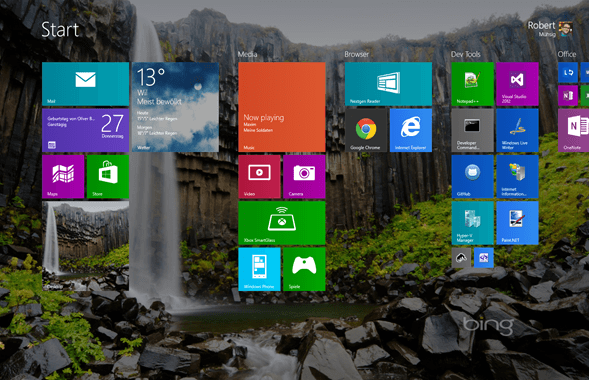 Natürlich das Flagschiff auf der Build-Konferenz. Eine gute Zusammenfassung für Entwickler findet ihr hier: Windows 8.1 Preview Product Guide for Developers
Internet Explorer 11 Preview: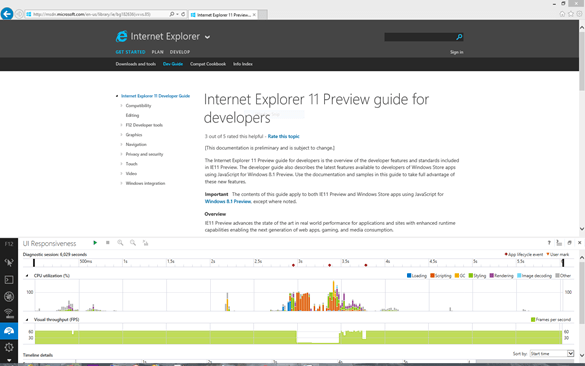 Im IE hat sich auch eine ganze Reihe getan. Ziemlich schick sehen die neuen Dev-Tools aus und die WebGL Unterstützung. Im Detail erfährt man alles hier: Internet Explorer 11 Preview guide for developers.
Der IE11 unterstützt nun einige Sachen mehr als der IE10 – wobei er (laut diesem Test) immer noch recht abgeschlagen gegen Chrome ist. Ob die "fehlenden" Features wirklich in der Praxis relevant sind muss man im Detail anschauen.
"One ASP.NET" mit ASP.NET MVC 5, WebAPI 2, OWIN und mehr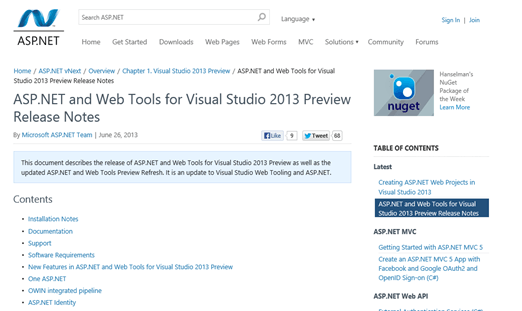 Die Vision "One ASP.NET" nimmt mit diesem Release erstmals konkrete Formen an. Auch wurden viele Sachen im Kern von ASP.NET für OWIN angepasst. Dazu gibt es noch neue Versionen der WebAPI und MVC und weitere Neuerungen. Hier empfehle ich einfach den Vortrag von Scott Hanselman auf der Build anzuschauen. Die Zusammenfassung in Text-Form gibt es hier: ASP.NET and Web Tools for Visual Studio 2013 Preview Release Notes
.NET Framework 4.5.1 Preview
Auch im .NET Framework gibt es einige Neuerungen. Manche betreffen das Debugging – andere die Entwicklung (x64 Edit and Continue!). ASP.NET erfährt auch einen Performance-Schub durch dieses Framework Update. Insbesondere die Verteilung und dass das Team sogar theoretisch in der Lage ist NuGet Packages via Windows Update auszurollen ist eine spannende Entwicklung. NuGet wird damit zu einem wichtigen Baustein des gesamten Frameworks. Hier die komplette Feature-Liste: Announcing the .NET Framework 4.5.1 Preview
IIS 8.5
Im Windows Server 2012 R2 steckt der IIS in der Version 8.5 und dieser bringt Verbesserungen hinsichtlich lLogging und Skalierbarkeit mit sich. Eine gute Zusammenfassung findet man hier: What's new in IIS 8.5 - Microsoft Internet Information Services 8.5 New Features
Windows Azure
Natürlich fehlt Azure nicht bei den Neuerungen. Heute morgen wurde folgendes Bekanntgegeben:
This morning we released a major set of updates to Windows Azure. These updates included:
Web Sites: General Availability Release of Windows Azure Web Sites with SLA
Mobile Services: General Availability Release of Windows Azure Mobile Services with SLA
Auto-Scale: New automatic scaling support for Web Sites, Cloud Services and Virtual Machines
Alerts/Notifications: New email alerting support for all Compute Services (Web Sites, Mobile Services, Cloud Services, and Virtual Machines)
MSDN: No more credit card requirement for sign-up
</ul>

Alle Details dazu findet man auf ScottGu´s Blog.

Fazit:

Hui! Auf Channel 9 wird es spätestens nach der Build alle Sessions auch zum Daheim-Anschauen geben.