Beim Bauen eines Azure Projektes über MSBuild bekam ich folgende Fehlermeldung:
"WAT080: Failed to locate the Windows Azure SDK. Please make sure the Windows Azure SDK v 1.7 is installed."
Das SDK war installiert – allerdings über den Web Platform Installer und hier gibt es jemanden der ein ähnliches Problem hatte und auch so "gelöst" hat.
Lösung:
Alles was mit dem Windows Azure SDK zutun hat (Tools / .NET Libs etc.) entfernen und über die normale Microsoft Download Seite (in diesem Fall ist es das 1.7 SDK) gehen und mindestens die Azure Tools (im Bild sind die Tools für VS2010 markiert!) und die .NET Libs runterladen – evtl. müssen auch die AuthoringTools runtergeladen werden. Der Emulator war bei mir aber nicht nötig. Zum Bauen müssten diese Komponenten reichen.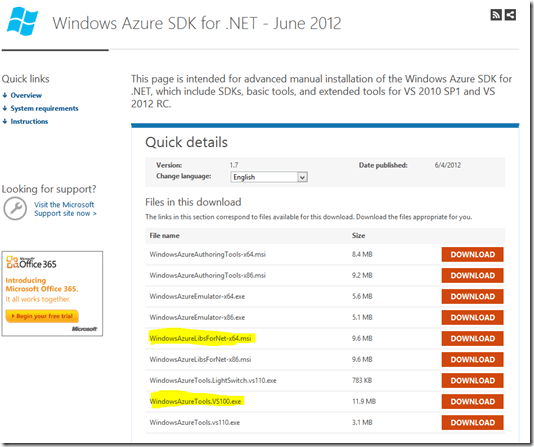 Danach kam auch "Build Succeeded" – kein Neustart notwendig.
Warum es über den Web Platform Installer nicht geht: Keine Ahnung.