Das Copyright Zeichen ist überall. Was es genau bedeutet und alles umfasst: Keine Ahnung. Der Blog hat nun schon ca. 6 Jahre auf dem Buckel und bislang hatte ich mich nicht darum gekümmer und im Footer war immer das © Zeichen.
Durch die geführen Copyright Diskussionen in der Politik will ich das Problem mal beheben. Zudem ist es ein Punkt von Scott Hanselmans "32 Ways to Keep Your Blog from Sucking":
License Your Blog
If you're going to take the time to write a blog, take 10 minutes and pick a license. I use the Creative Commons Attribution 2.0 license that says you can, Share or Remix the work as long as you Attribute the original work to me.
Die Creative Commons Lizenzen sind für Kreative, welche ihre Werke weitergeben möchte ein Rahmenwerk.
Bei mir gilt: Eigentlich ist es nur gelebte Praxis:
Wer bloggt und die Inhalte ja keinem anderen zur Verfügung stellen möchte oder explizit kommerzielle Nutzung von Democode verbietet lebt in einer anderen Welt. Natürlich wird der Code irgendwo auf der Welt von jemanden eingesetzt, der damit sein Geld verdient – da ich das nicht schlimm finde hab ich mich entschlossen für den Blog diese Lizenz zu wählen: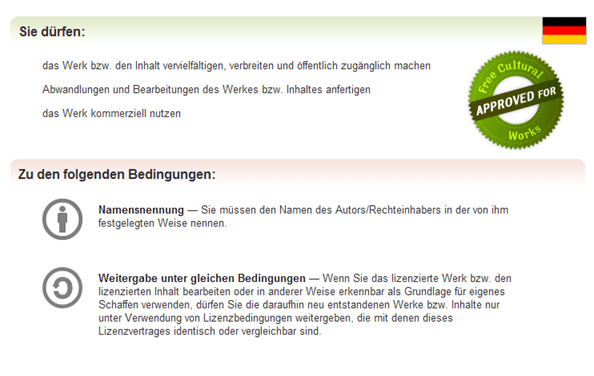 In diesem Sinne: Happy sharing, aber bitte eine Referenz auf den Blog setzen :)
Was gibts denn noch für Creative Commons Lizenzen?
Eine Lizenz zu wählen dauert quasi nur 5. Minuten: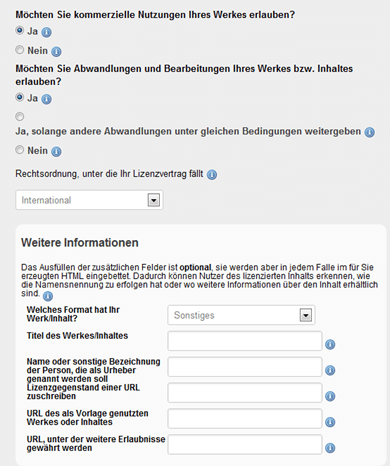 PS: Ich bin kein Anwalt – falls irgendwer in meiner Logik ein Fehler entdeckt, kann mich gerne aufklären :)