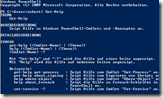 Wenn man Powershell Scripts ausführen möchte, kann diese Fehlermeldung kommen: "File cannot be loaded because the execution of scripts is disabled on this system". Grund dafür: Die Sicherheitsrichtlinien des Systems.
Sicherheitsrichtlinien?
Standardmäßig dürfen keine .ps1 Scripts aufgeführt werden. Folgende "Execution Policies" gibt es (von dieser Quelle übernommen) :
"Restricted": Scripts, welche als .ps1 vorliegen können nicht ausgeführt werden. Jedoch können in der Powershell Befehle eingegeben werden. Das ist der Standardwert.
"AllSigned": Scripte mit einer digitalen Signatur können ausgeführt werden.
"RemoteSigned": Lokale .ps1 Scripts können ausgeführt werden, alle anderen (Scripts runtergeladen von irgendwo, welche nicht als "sicher" gekennzeichnet sind) benötigen eine Signatur.
"Unrestricted": Alle Scripts können ausgeführt werden.
Lösung - Sicherheitsrichtlinien setzen
Die Powershell als Admin ausführen und die Execution Policy setzen:
Set-ExecutionPolicy RemoteSigned
bzw. die anderen Level. Allerdings sollte man von Unrestricted die Finger lassen. Danke an Ilker für den Wahrhinweis :)