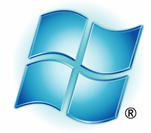 Ich habe das Azure SDK 1.2 bei mir installiert und wollte nun eine Anwendung debuggen. Allerdings erhielt ich folgende Fehlermeldungen. Grund: Ich hab bei mir keine SQLExpress Installation, sondern einen richtigen SQL Server 2008R2 bei mir installiert.
Mit einem kleine Trick geht es natürlich trotzdem...
Fehlermeldung
Diese Fehlermeldung bekam ich:
Windows Azure Tools: Failed to initialize the Development Storage service. Unable to start Development Storage. Failed to start Development Storage: the SQL Server instance 'localhost\SQLExpress' could not be found.   Please configure the SQL Server instance for Development Storage using the 'DSInit' utility in the Windows Azure SDK.
Wie gesagt: Ich hab einen SQL Server 2008R2 installiert.
Das DSInit Tool findet man für gewöhnlich da:
C:\Program Files\Windows Azure SDK\v1.2\bin\devstore
Beim Aufruf gab es jedoch einen Fehler: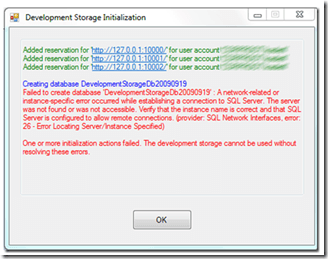 Grund: Er versucht den SQLExpress Server zu finden. Den gibt es nicht.
Problemlösung
Man kann als Parameter dem Tool auch noch den SQL Instanznamen mitgeben. In der Standardinstallation hat der SQL Server aber keinen Instanznamen. Dies in die CMD eingeben und es geht:
C:\Program Files\Windows Azure SDK\v1.2\bin\devstore>DSInit.exe /sqlinstance:
Jetzt klappts auch ;)
Gefunden habe ich diesen Tipp hier: