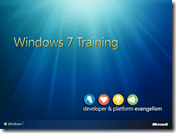 Microsoft bietet ein Training Kit für Entwickler an in dem die APIs von Windows 7 mit Präsentationen, Hands on Labs und Democode nähergebracht werden. Das Training Kit richtet sich eher an die C++ Entwickler. Microsoft hat allerdings auch Wrapper Klassen bereitgestellt.
Themen:
Taskbar
Libraries
Multi Touch
Sensors and Location
Ribbon
Trigger Start Services,
Instrumentation and ETW
Application Compatability
</ul></ul>

Für den .NET Entwickler:

Einige Teile werden direkt in das .NET Framework mit einfliessen, so z.B. Multitouch & die Jumplists von Windows 7. Andere Teile können momentan mit diesen, von Microsoft bereitgestellten, Wrapper angezapft werden. Allerdings gibt Microsoft auf dieses Codepack keine Garantie, aber es ist Open Source und jeder kann sich entsprechend bedienen.