Wie bereits Kay und auch Thomas berichtet haben - habe nun auch ich eine Lochkarte in einer Holzschachtel mit der Notiz "To execute these commandments you"™ll have to find the properly gifted follows" bekammen.
Mal sehn was sich dahinter verbirgt: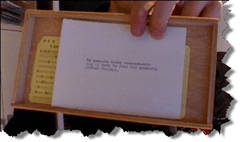 (das Bild ist von Thomas - aber bei mir ist genau das selbe)
Ich geb es zu: Erst war es mir direkt unheimlich ;)
Thomas hat die meisten Infos dazu geschrieben - genau dasselbe bei mir. Wer weiß rat? Gibt es ein Schema? Akte X-melodie pfeiff
Nachtrag: Es scheinen einige Blogger (hier z.B. auch) solch eine Kiste bekommen zu haben - wer macht ein Forum für Geschädigte auf?